Secluded Holiday Home in Almería with Private Pool
Secluded Holiday Home in Almería with Private Pool
Holiday home
1-10
6
2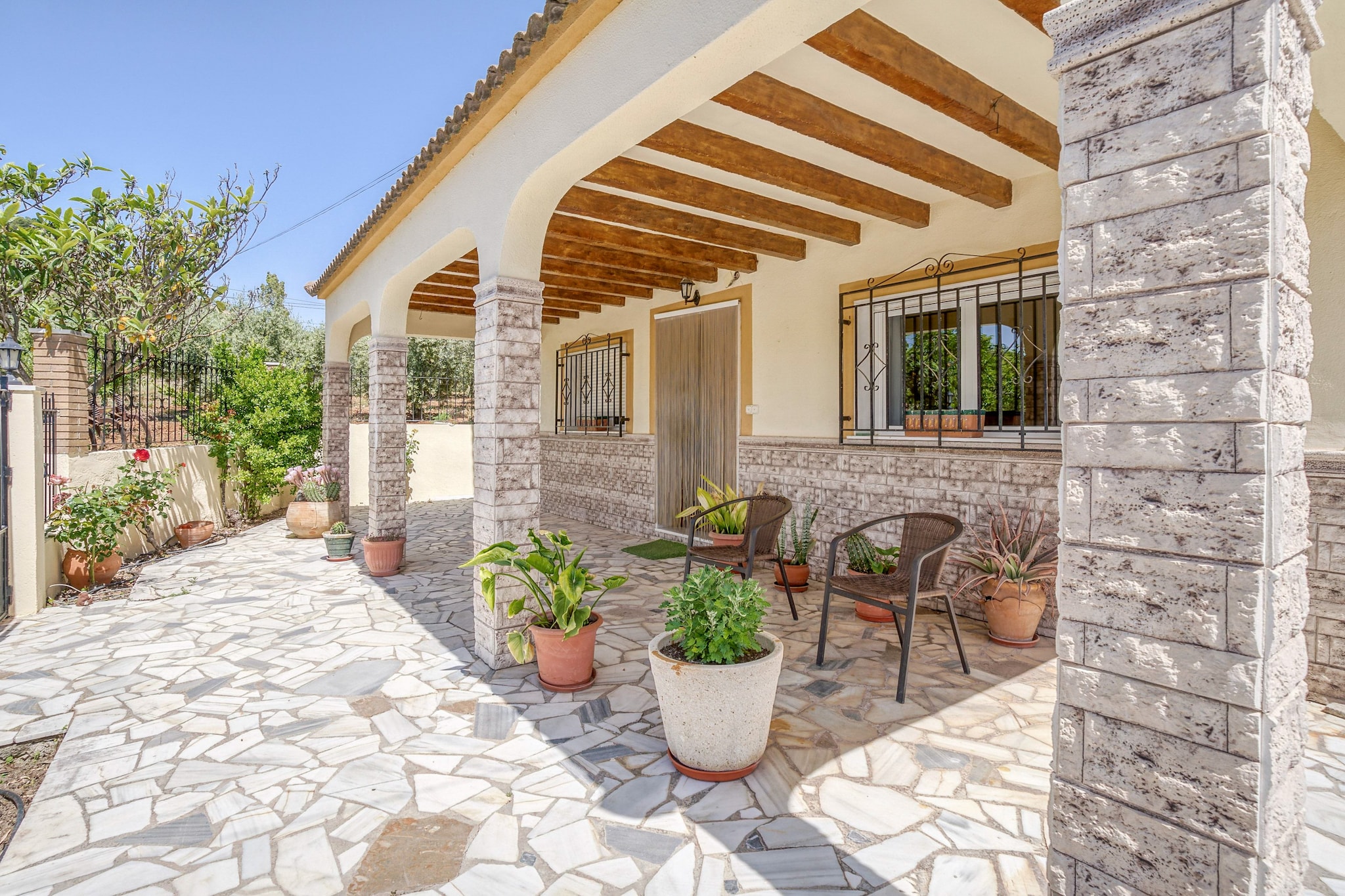 Description holiday home
House with privacy for a maximum of 10 people, laid out on two floors.
It has a living room, dining room, fully equipped kitchen, 6 bedrooms, 2 bathrooms, patio with parking area, barbecue, heating and bubble bath.
It also features a magnificent private covered swimming pool to be used both in summer and in the winter months. The swimming pool is open from 13:00 - 20:00.
The bubble bath is available for a maximum of 3 hours/day.
Layout holiday home
Ground floor: (Entrance(seating area), Living room(TV(flatscreen), dining table, fireplace, seating area(10 persons)), Kitchen(dining table, toaster, cooker(4 ring stoves, electric), oven, microwave, dishwasher, fridge-freezer), bedroom(double bed(135 x 190 cm)), bedroom(double bed(135 x 190 cm)), bedroom(single bed(90 x 190 cm)), bathroom(bath tub, shower, toilet), heating)
On the 1st floor: (bedroom(double bed(135 x 190 cm)), bedroom(single bed(90 x 190 cm), single bed(90 x 190 cm)), bedroom(single bed(105 x 190 cm)), bathroom(bathtub with shower, washbasin, toilet, bidet), heating)
bathtub or shower, washing machine, patio, garden furniture, BBQ, parking, swimming pool(shared with other guests, heated, indoor), ironing board, iron, Charging post for electric cars
Activities near holiday home
Below you will find some ideas for your holiday. However in case you need more specific information, please do not hesitate to check with our local contacts.

Have a stroll through the magnificent nature around us and enjoy your own seasonal fruits like figs, oranges, lemons, olives, almonds, nisperus, pomme granate and blackberries. Ofcourse, enjoy the private pool and its close surroundings.

La Vall de Laguar is formed by three villages: Campell, Fleix, Benimaurell and Fontilles Sanatorium. None of them has over 300 inhabitants, and this shows that it is a quiet and peaceful place.
La Vall de Laguar offers impressive routes for excursionists. Its walking routes are famous for their gorgeousness, such as the impressive Barranc de l´Infern. Along ancient pathways we will reach hidden spots with crystal-clear springs, caves and cliffs decorated with cave paintings of great historical value, protected by the UNESCO.
The well-known PRV 147 is a walking route in the municipal district of La Vall de Laguar. It is a closed circuit of 14.5 kilometres and has 6, 500 stone steps of Moorish origin. The views and flora of the walkway are really spectacular.

Visit our the next doors monestry Fontilles.
www.youtube.com/watch?v=w6rWWujBWQU
Our grounds are located along site the walls of the monestary. At many places you can follow a trail and wander into the domain of Fontilles World Heritage.

Lounge on the mondaine beach of Arenal Javea
http://www.acquajavea.com/mas-locales/

Lunch as a Spanisch family on the beach at hotel Los Angelos Denia
http://www.hotellosangelesdenia.com/english/Home.html

Diner on the top of Vall de laguar
Restaurant Venta del Collao

Also, you can visit local markets in villages of Jalon, Orba, Pego and Denia. Very famous is the touristic market down in the riverbed in Jalon. Every Saturdaymorning you can stroll here and find bracelets as many as you like, leather belts, pouches and clutches, colorfull authentic Spanish dresses with dots for the little girls, all kind of hats, second hand furniture and much much more.

It's worthwhile to check with local tourist information or our local contacts on village "Festeros". Every village has its own patronsaint and to honor the saint, the village celabrates this quite well. Every day, some times for a week, you can enjoy activities to celebrate.

Also sportsmen and women can continue their activities during the holiday: rock climbing in Alcalali or Jalonvalley, cycling through the mountains like professional cycling teams do as well. New is the mountainbike route passing along our own valley where the house is located.

From € 1191 per week
Host
Belvilla
Host since 21-07-2021
| | |
| --- | --- |
| Number of bedrooms: | 6 |
| Number of bathrooms: | 2 |
| Dish washer: | |
| Fire place: | |
| Bath: | |
Rent a car - Costa de Almeria
Availability
Location
More holiday homes nearby