Masia Torrents 5
Masia Torrents 5
Apartment
1-4
2
1
60m2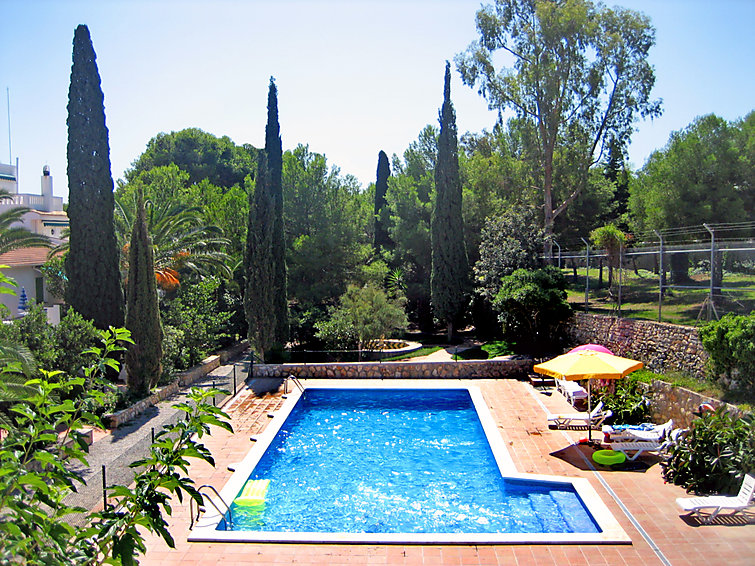 Description holiday home
Comfortable, cosy holiday complex "Masia Torrents 5", renovated in 2011, surrounded by trees.
Washing machine (shared use, extra).
Access & Parking: parking by the house. All-season motor access to the house. Access via train/cablecar, car recommended. Situation: on the outskirts, above Cunit-Calafell, quiet, sunny position. View from the apartment of the garden.
Surroundings of the house: grounds (shared use, 5'000 m2, fenced), garden (shared use), swimming pool (shared use, length 14 m x width 7 m, open from 01.01. untill 31 .12.), outside shower (shared use).
Facilities and distances: supermarket 200 m, restaurant 200 m, swimming pool 30 m, sandy beach 700 m, sports centre 2 km, golf course 5 km, tennis 2 km, riding stables 3 km, bus stop 200 m, subway/train 800 m. Please note, nearby is a motorway in 3 km, railway line in 800 m and ein airport/airfield in 45 km. 4 houses and 21 apartments. IDEAL FOR FAMILIES AND COUPLES. ARRIV: Mon-Frid from 11-13 hrs and 16-18 hrs, Sat from 16-20 hrs (between 20-24 hrs, 30€ extra cost). Free parking for 1 car. Wifi (extra charge 3, 00€ per day). CASH Payments. Train to Bcn every 30min.
Layout holiday home
3-room apartment "Masia Torrents 4/5", for 4 people, 60 m2 on 1st floor, comfortable and cosy furnishings.
Living/dining room with Scandinavian wood stove. Smoking allowed. 1 sofa bed.
Sleeping room with 2 single beds. Sleeping room with 2 single beds.
Kitchen with 4 hot plates, dining table, fridge and deep freezer.
Bath/WC.
Terrace 8 m2, terrace furniture.
IMPORTANT: Booking this property, you can be relocated in ES9526.5.1, ES9526.6.1, ES9526.7.1 or ES9526.601.1 (same rating). Cot available on request and according to availability. ATT0000007
Rental periods and prices
| Period | Price per week | Price per night |
| --- | --- | --- |
| 26-04-2022 - 28-05-2022 | € 428 | |
| 29-05-2022 - 30-05-2022 | € 439 | |
| 31-05-2022 - 07-06-2022 | € 445 | |
| 01-06-2022 - 08-06-2022 | € 450 | |
| 02-06-2022 - 09-06-2022 | € 456 | |
| 03-06-2022 - 16-06-2022 | € 467 | |
| 17-06-2022 - 24-06-2022 | € 499 | |
| 18-06-2022 - 25-06-2022 | € 531 | |
| 19-06-2022 - 20-06-2022 | € 595 | |
| 21-06-2022 - 28-06-2022 | € 627 | |
| 22-06-2022 - 29-06-2022 | € 659 | |
| 23-06-2022 - 25-06-2022 | € 691 | |
| 26-06-2022 - 27-06-2022 | € 738 | |
| 28-06-2022 - 05-07-2022 | € 761 | |
| 29-06-2022 - 06-07-2022 | € 785 | |
| 30-06-2022 - 07-07-2022 | € 808 | |
| 01-07-2022 - 08-07-2022 | € 832 | |
| 02-07-2022 - 09-07-2022 | € 855 | |
| 03-07-2022 - 04-07-2022 | € 912 | |
| 05-07-2022 - 12-07-2022 | € 940 | |
| 06-07-2022 - 13-07-2022 | € 968 | |
| 07-07-2022 - 14-07-2022 | € 996 | |
| 08-07-2022 - 15-07-2022 | € 1025 | |
| 09-07-2022 - 23-07-2022 | € 1053 | |
| 24-07-2022 - 25-07-2022 | € 1246 | |
| 26-07-2022 - 02-08-2022 | € 1286 | |
| 27-07-2022 - 03-08-2022 | € 1327 | |
| 28-07-2022 - 04-08-2022 | € 1368 | |
| 29-07-2022 - 05-08-2022 | € 1408 | |
| 30-07-2022 - 06-08-2022 | € 1449 | |
| 07-08-2022 - 13-08-2022 | € 1165 | |
| 14-08-2022 - 20-08-2022 | € 641 | |
| 21-08-2022 - 05-09-2022 | € 461 | |
| 06-09-2022 - 13-09-2022 | € 456 | |
| 07-09-2022 - 14-09-2022 | € 451 | |
| 08-09-2022 - 15-09-2022 | € 447 | |
| 09-09-2022 - 16-09-2022 | € 442 | |
| 10-09-2022 - 17-09-2022 | € 437 | |
| 11-09-2022 - 29-10-2022 | € 428 | |
From € 428 per week
Host
Interhome
Host since 20-02-2020
| | |
| --- | --- |
| Reference number: | 7100 |
| Location: | Cunit, Costa Dorada, Spain |
| Website: | Masia Torrents 5 |
| Number of persons: | 1-4 |
| Swimmingpool: | |
| (Private) parking: | |
| | |
| --- | --- |
| Surface holiday home: | 60 m2 |
| Number of toilets: | 1 |
| Number of bedrooms: | 2 |
| Number of bathrooms: | 1 |
| Washing machine: | |
| Fire place: | |
Rent a car - Costa Dorada
Availability
Location
More holiday homes nearby